Now booking Jim Hurst 2024-2025
"I am thrilled to have the opportunity to be a road musician, songwriter, troubadour of sorts… and kinda doing it my way. And sometimes I find a song written by another of the same ilk that I am so fond of I request to cover it on a recording project and/or perform it live. Such is the case with Keith Little's 'Weary Old Highway,' a road musician's journal of sorts. I first heard this song on Keith's Distant Land to Roam CD, and immediately fell in love with the song. Years later, I asked him if I could get his permission to record my version of it, and he graciously said yes. So I did, on my newest project: From the Ground Up on Pinecastle Records. I had wonderful musician friends to help me: Kristin Scott Benson (banjo), Wayne Benson (mandolin), Shawn Lane (fiddle), Ethan Burkhart (bass), Darin Aldridge (tenor vocal), and Brooke Aldridge (high baritone vocal). Oh, and Keith gave my version his approval… which matters to me. I hope you approve as well!" — Jim Hurst
jim hurst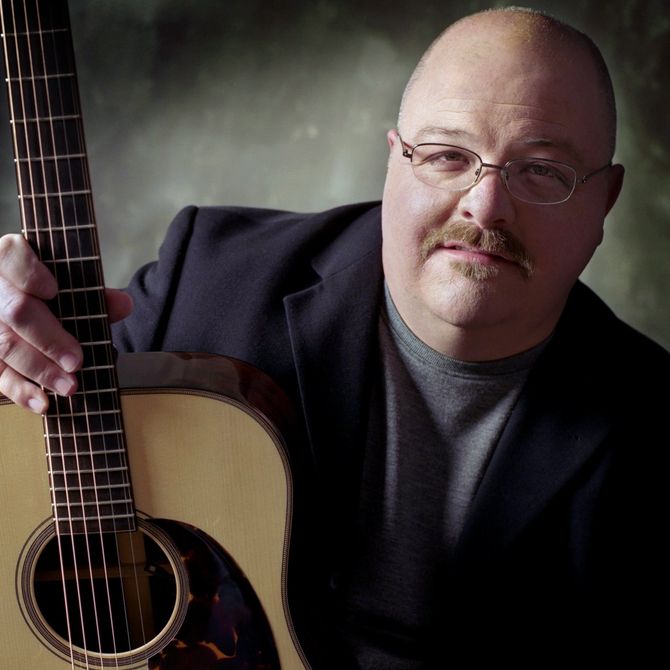 Pinecastle Music Recording Artist
Award Winning Guitarist & Singer-Songwriter
Jim Hurst's unique picking style and mastery of bluegrass guitar wows audiences and is revered by both novice guitar players and his musical peers. His vast, eclectic career has made him a remarkable performer, an experienced instructor and a highly sought after session musician. His affability and gregariousness make him one of the most approachable musicians of his caliber.
Garnering numerous nominations, Jim received IBMA's prestigious "Guitar Player of the Year '' awards for 2001 and 2002. This award is voted on by IBMA members including his peers and contemporaries revealing their appreciation of Jim's abilities.
After recording and touring with several Country and Bluegrass artists, including Trisha Yearwood, Sara Evans, Holly Dunn, Claire Lynch, and Missy Raines, Jim decided in 2010 to embark on a solo career to focus mostly on his own musical expression and art. As a musician, vocalist, songwriter, arranger and producer, Jim has recorded 7 CDs including: Open Window, Second Son, A Box of Chocolates, Intrepid, Looking Glass, JHT-1, and Atlantic Crossing. Jim's virtuosity shines as he consistently sways audiences with his deft finger work and smooth vocals.
During the last ten years, Jim has been performing his show full time and teaching at guitar workshops and music camps across North America and Europe. While he occasionally collaborates with other bluegrass greats, his solo and Jim Hurst Trio performance have kept audiences mesmerized.
In April 2021, Hurst released a much anticipated original single to the world, "It's A Beautiful Day," which was received with gusto by radio and fans alike. The uplifting tune, featuring harmony vocals from Dale Ann Bradley and Claire Lynch, shot quickly up the Bluegrass Today Grassicana Chart, to #2, where it spent 25 weeks on the chart and is still going.
Fast forward to the present day, when Jim has just recently signed a brand new record deal with Pinecastle Music and re-released the SECOND SON album on its 20 year Anniversary. A new bluegrass album is also underway with Pinecastle at their Bonfire Music Studio, and Jim is locking in tour dates for a full band promotional tour.