FOR IMMEDIATE RELEASE 
September 15, 2022 
Wilson Pickins Promotions 
864-359-7999 

EASTANOLLEE, GA - The Edgar Loudermilk Band is excited to release their next new single "The Deal That Won't Go Down," off of the hit album The Dark Side Of Lonesome, released by Rural Rhythm Records in March 2022. 
This snappy, toe-tapping grass tune again showcases Loudermilk's songwriting chops alongside band member and mandolin picker, Zack Autry. "The Deal That Won't Go Down" tells the age-old story of a broken-hearted rambler running from the love that scorned him. Skilled instrumentation and a dynamic arrangement surround Edgar Loudermilk's notable vocals. Listeners will also enjoy a guest fiddle appearance from Hunter Berry of The Rage band.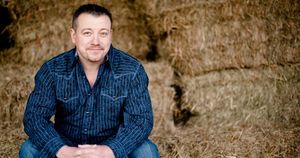 "This is a song I wrote with Zack Autry one night while travelling through the beautiful state of Colorado. We drove out of Denver on I-70 during a snowstorm and saw these big canyon walls. This immediately put us in the mindset to write a western-style cowboy song. It's about a roving gambler who falls in love with a girl at one of his regular stops. He finds betrayal and catches himself in a bit of trouble." -Edgar Loudermilk 
This marks the third official single released from The Dark Side Of Lonesome which was lauded by Bluegrass Today's John Curtis Goad as "Loudermilk's best work yet." Bob Webster of Bluegrass Unlimited shared that "This is one you'll surely want for your collection," and "Edgar and the band shine all the way on this excellent recording." We can expect more praise to roll in and for "The Deal That Won't Go Down" to climb way UP on the charts! 
The Players 
Edgar Loudermilk: Bass, Lead Vocals 
Zack Autry: Mandolin, Harmony Vocals 
Curtis Bumgarner: Banjo 
Clint Coker: Guitar 
Hunter Berry: Fiddle 
Radio programmers can grab their download of the new single at Airplay Direct or contact us directly for a wav file. Fans can stream or download the single and full project from all the popular online distributors. 
Edgar Loudermilk's masterful bass skills and songwriting are a family tradition for this Louvin Brothers' descendant. While his friendly, down-home style continues to win over audiences across the country, Loudermilk's distinctive vocals and powerful storytelling indeed drives a genuine and personal connection with his listeners. 
"I see songwriting as much of a calling as singing," says Loudermilk. "Playing and singing live is always a good time and we love the audiences but connecting with people through relatable and meaningful songwriting is very rewarding." 
Loudermilk has penned chart-topping songs found on Bluegrass Today's Top Songs of the Year, as well as on Bluegrass Unlimited's Top Songs. Notably, the band's 2019 album Lonesome Riverboat Blues reached #1 on Sirius XM's Bluegrass Junction and reached "Most Played" status in July of 2019. The album also remained in Bluegrass Today's Top 20 Airplay Charts for twelve consecutive weeks. 
Loudermilk has also performed alongside some of the industry's most revered talent, including award-winning groups Russell Moore & IIIrd Tyme Out, Rhonda Vincent & The Rage, and Marty Raybon & Full Circle. The Edgar Loudermilk Band tours coast-to-coast and throughout Canada.