For Immediate Release
April 19, 2023
Wilson Pickins Promotions
864.359.7999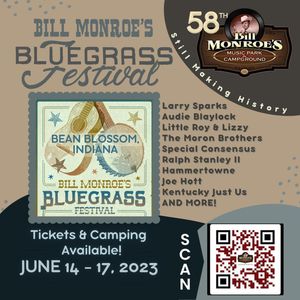 MORGANTOWN, IN - Bill Monroe's Music Park is proud to announce their alliance with Wilson Pickins Promotions for its five ongoing music festivals going forward.
Rex Voils, Operations Manager of the park and all music events, along with his daughter-in-law, Haley Voils who coordinates all office operations, reached out to Melanie Wilson largely based on reputation several months ago. Upon the conclusion of the conversation, it was clear that the business relationship would be a positive one.
"Melanie really made us feel at ease with her willingness to work closely with us on building a great future for music at the park and ensuring a steadfast foundation for this historic gem. We could tell that she actually cared about the venue and what it means to the industry, as well as putting our well-being forward as her client. Melanie shows that she truly wants us to be a success so that we can be here for musicians, music fans, campers, and visitors from all over the world to enjoy for many years to come." -Rex Voils
"Haley and I have worked very closely on creating efficient processes for marketing and booking management moving forward. Diving in there there was a lot of clean-up and reorganizing based on years of many people creating accounts, doing things differently than the last person, and so on. I have enjoyed my first few months working with Rex and Haley so much, and recognize their goals to create an all-inclusive music park that offers something for fans of a variety of genres. Versatility and options are so important to music fans and the shows that we are working on are all fun, quality entertainment at a place that is perfectly set up and historically made for it. As time passes I expect the shows and the lineups to grow with demand, as Rex is making sure all the right details are covered. It's going to be a great season!" -Melanie Wilson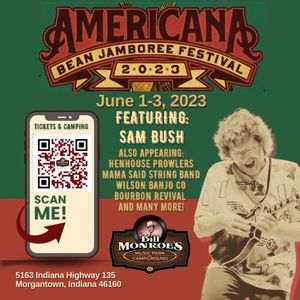 All 5 lineups have been announced on the park website, as well as the respective social media pages, with the first festival taking place June 1-3, the Americana Bean Jamboree.
Festival Schedule:
AMERICANA BEAN JAMBOREE
JUNE 1-3
Sam Bush, Henhouse Prowlers, Bourbon Revival, Wilson Banjo Co., More
BILL MONROE'S BLUEGRASS FESTIVAL
JUNE 14-17
Larry Sparks, Ralph Stanley II, Hammertowne, Little Roy & Lizzy, More
HIPPY HILL FEST
JULY 27-29
Mr. Blotto, Pushing Daisies, John Welton, Davey & The Midnights, More
SOUTHERN INDIANA BLUES FEST
AUGUST 24-26
Walter Trout, Reverend Peyton's Big Damn Band, King Bee & The Stingers, More

UNCLE PEN FEST
SEPTEMBER 22-23
Michael Cleveland & Flamekeeper, Joe Mullins & The Radio Ramblers, Danny Paisley & Southern Grass, Junior Sisk, The Grascals, More
PLUS - Hall of Fame Inductions: Tom Gray & Vassar Clements
In addition to the amazing music that will be on hand at the Festivals, there have been numerous upgrades to the camping areas, museum and so much more, that new and return visitors will thoroughly enjoy. Be sure to check out all that's new on the Bill Monroe Music Park website to find out all of the fun that's waiting for you in Southern Indiana! 
Don't miss your opportunity to come out and see a show, or three, in 2023, at this incredible facility that is "STILL MAKING HISTORY."