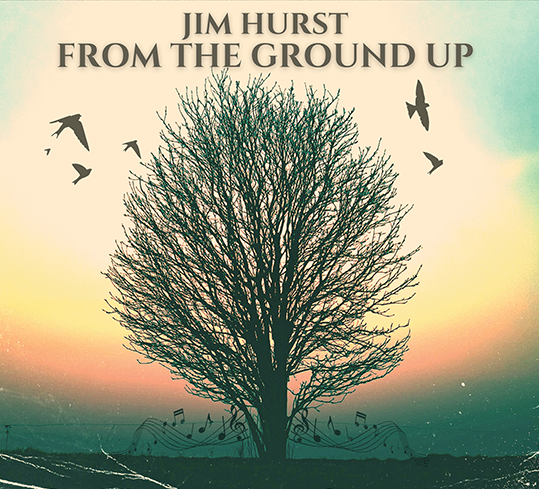 Nashville, Tenn. - The wait is over as Bluegrass mainstay Jim Hurst releases his highly anticipated new album, From The Ground Up. Available today via Pinecastle Records, it marks the critically-acclaimed singer/songwriter's first release in over seven years. The collection includes 11 new recordings, which all spotlight the multi-time IBMA "Guitar Player of the Year" winner's laid-back Bluegrass vibe. Fans can download and/or stream From The Ground Up HERE. 
Jim Hurst began turning heads with the album's lead single, "Back To The One." Written by Hurst alongside Jack Shannon, the song tells a story about losing love and wanting to do things a different way. It centers around the singer's powerful voice, which delivers a soothing and laid-back tone. The follow-up was the latest single, "Weary Old Highway" which features fellow Bluegrassers Darin & Brook Aldridge. The Keith Little written tune describes returning to your roots, and all the twists and turns that are associated with life. It perfectly captures the feeling of traveling to perform shows, and the journey back home. 
From The Ground Up features a diverse collection of songs that incorporate multiple genres, like the thought-provoking tracks "Sunnyside Garden" and "15 Miles to Birmingham," along with Bluegrass / Gospel infused cuts including "It Started With Love" and "Nothin' To Do But Pray." Hurst penned four of the songs from the project, while being joined by an impressive list of guest songwriters (see full track listing below). It all comes together to create a one-of-a-kind vibe that only Jim Hurst is capable of accomplishing with his unique and artistic approach.