FOR IMMEDIATE RELEASE 
FEBRUARY 11, 2022 
WILSON PICKINS PROMOTIONS 
864.359.7999 
NASHVILLE, TN - Exciting news in the world of acoustic guitar and roots music comes from 30-year veteran, Bob Minner this week.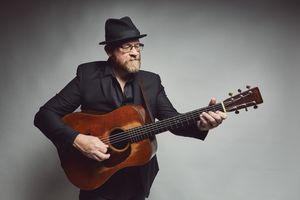 Some may recognize Bob as long time acoustic guitar player for country music superstar and actor, Tim McGraw. Others as a seasoned flatpick guitarist and accomplished bluegrass songwriter, having had his works recorded by such artists as Volume Five, Dailey & Vincent, Sideline, Blue Highway, Ronnie Bowman and more. 
Raised in the bluegrass heavy region of Missouri, Minner started out young with a love for music and a desire to play and learn all he could. And by young, we mean his first guitar at age two. But it wasn't until he was twelve that his mind was opened to the musical stylings of the great Norman Blake. 
"Norman Blake was my first influence on guitar, and I remember buying my first Blake album, Whiskey Before Breakfast, when I was 12 years old in 1978 with my own money. Now all these years later at 56 years old, it seemed fitting and about time to bring together some old and new friends and create this tribute project to the musical legacy of Norman and Nancy Blake. All of the collaborators brought such a fresh wind to the time-honored sails of these songs. I'm so excited to share this with the world and I hope it's as enjoyable to listen to as it was to record." - Bob Minner 
Decades later, Bob Minner has created a tribute project to his friend and first mentor, including many of the songs that he has loved and respected from Norman Blake throughout his career. 
Teamed up with Engelhardt Music Group and Wilson Pickins Promotions to release the album for Norman's 84th birthday, on March 10, 2022. Bob couldn't be more excited to unleash the labor of love that includes many featured artists, such as Ron Block, Ronnie Bowman, Dale Ann Bradley, Shawn Camp, Vince Gill, Chris Eldridge and more. The official worldwide release date is March 11, 2022. 
"I recently had the pleasure to play the album for Norman and Nancy at their home, and they gave it their full endorsement, which was both appreciated and very kind of them." -Bob Minner 
Stay tuned as we near the exciting release date for this epic collection.