EDDIE SANDERS TO LAUNCH NEW COUNTRY FEST ADDITION TO XTREME MUSIC FOR 2022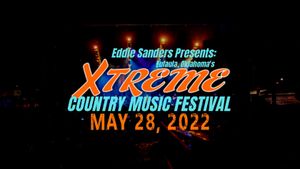 FOR IMMEDIATE RELEASE 
APRIL 16, 2022 
WILSON PICKINS PROMOTIONS 
864.359.7999 
EUFAULA, OK - Exciting news coming out of Eufaula, Oklahoma this week as Festival Promoter, Eddie Sanders, announces the addition of a new show to his growing music show family. The Xtreme Country Music Fest is set to debut on May 28th, again at the Xtreme RV Resort on beautiful Lake Eufaula, OK.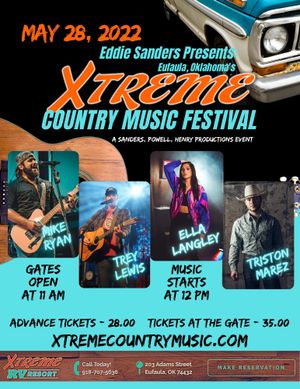 Music is at the heart of what Eddie does as a well-known songwriter and recording artist, and he saw the need to satisfy the live country music show market in the region. The Xtreme Country Music Fest was born for that reason and will host an electric lineup of current, popular country artists on stage this coming Memorial Day Weekend. Patrons will have the opportunity to enjoy Mike Ryan, Trey Lewis, Triston Marez and Ella Langley at the blockbuster event. 
In his efforts to keep his shows affordable, advanced tickets are just $28.00 to enjoy the full roster of talent at this true destination event on Lake Eufaula. Camping is available through the Xtreme RV Resort and there will be food and beverage sales on site. 
The Xtreme Country Music Fest is presented by Sanders, Powell, Henry Productions. 
####