The highly anticipated return of the Sanders bluegrass festival event, now called the Xtreme Bluegrass Music Festival, in Eufaula, OK is scheduled to move forward this September 25-26. Tickets are on sale and the community is excited about hosting this star-studded event.
The location is the beautiful Xtreme RV Resort on Lake Eufaula, and appears to offer anything and everything campers and music enthusiasts could want. This perfect place to host a complete Festival experience offers affordable lodging for your RV, or cabins and condos for rent, a fantastic Ampitheater, indoor and outdoor pools, on site General Store, Bar, playground, basketball court, volleyball courts and MORE!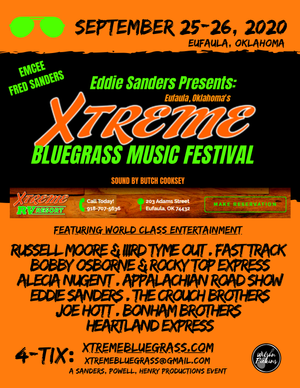 A super star-studded lineup for this inaugural event is scheduled, including your host, Eddie Sanders, and bands that hold current IBMA nominations, Russell Moore & IIIrd Tyme Out, Appalachian Road Show, and Fast Track. Also taking the stage on the weekend will be Bobby Osborne & Rocky Top Express, Alecia Nugent, The Crouch Brothers, Joe Hott, the Bonham Brothers and Heartland Express. Jamming is encouraged and of course, enjoying the lake and grounds and all they have to offer during stage down time.
Weekend passes are only $40.00 (or $20/day) for the shows and there is camping and lodging information available on the website.
Promoter, Eddie Sanders was born into southwest bluegrass royalty, and his father is legendary bluegrass festival and concert promoter, Freddie Sanders. The Sanders Family Bluegrass Festival in McAlester, OK was one of the biggest and best bluegrass festivals west of the Mississippi, and a favorite venue for legendary bluegrass acts Bill Monroe, The Osborne Brothers, Lewis Family, Jim & Jesse, Dr. Ralph Stanley and nearly every major bluegrass act of the last 40 years. 
Together now with his partners, Eddie is renewing the Sanders tradition and bringing an amazing new experience to the gorgeous Xtreme RV Resort in Eufaula, OK. Make plans to join in the fun with this stellar kickoff lineup September 25-26th!