GRUNDY, VA - Americana/ Folk songstress, Sandy Shortridge, is announcing the release of a second single from a forthcoming project this week. The emotion-filled original song, "Virginia Red" proves once again why Shortridge is known as one of the most respected musical storytellers in her niche.  "Virginia Red" was written by Sandy, along with her husband and popular multi-year nominee for IBMA Broadcaster of the Year, radio host, Alfred "Big Al" Weekley.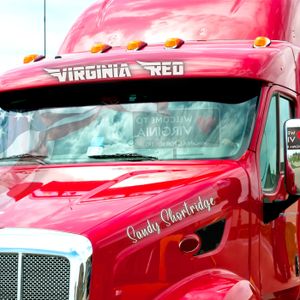 Sandy Shortridge is an acclaimed singer-songwriter in the roots music industry, having penned hit songs for Larry Sparks, Joe Mullins & The Radio Ramblers, and others. From roots deep in the hills of Southwest Virginia, mountain music runs through her veins, and the original, "Virginia Red" is special for many reasons to her and her family. 
"It was fun crafting a song about Big Al's adventures with Virginia Red. The song reveals another side of a truck driver's life that we at home may not always think about." -Sandy Shortridge 
"Truckers have a special relationship with their truck just like people, and this is the story of me and my truck "Virginia Red." My brother John, a retired trucker, was the one who actually named the song, and the rest is history." -Big Al Weekley 
The Players: 
Sandy Shortridge: Lead Vocals 
Richard Bennett: Guitar 
Milom Williams: Mandolin 
Steve Wilson: Banjo 
Glen Crain: Resonator Guitar 
Michael Branch: Bass 
Sarah Logan, Steve Wilson: Harmony 
Sandy once again tapped into the talent vault of Engineer/Producer Steve Wilson to create the outstanding musicianship displayed on this recording. Though honestly, her vocal performance alone is worth the listen, download, share, and even gift of this music for the upcoming Holiday season. 
"Virginia Red" is now available to radio for download via AirPlay Direct or pre-orders by fans and is expected for worldwide release on November 26th.