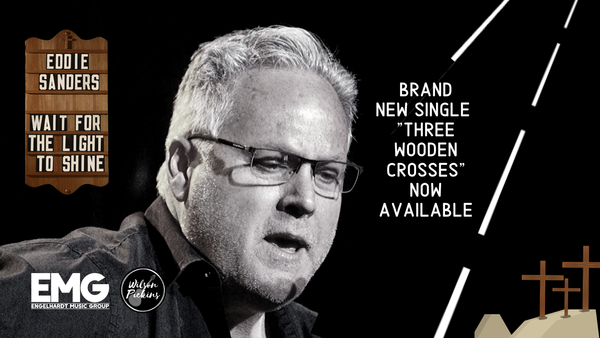 NASHVILLE, TN - Eddie Sanders is dropping a brand new single this week from his recently released album, WAIT FOR THE LIGHT TO SHINE. The bluegrass gospel album from Engelhardt Music Group has already produced two well-received singles with I've Got a Friend (His Name Is Jesus), and Laying On Of Hands. The third, and soon to be hit release, is a praiseworthy, grassy cover of the song made famous in the country music genre by treasured superstar, Randy Travis, Three Wooden Crosses. 
"Three Wooden Crosses" is one of my all-time favorite songs.  It is special to me and my family as my children and I have sung it together on many occasions. I feel it is one of the best written songs ever by two great writers, Kim Williams and Doug Johnson.  It tells such a moving story and presents a message that we should all strive to live by.  I'm so glad I was able to include it on my new album."   -Eddie Sanders 
Three Wooden Crosses showcases Eddie's smooth, heartfelt lead vocals, backed by an all-star supporting band including: Cody Kilby and Pat McGrath on acoustic guitar, Scott Vestal on banjo, Dennis Crouch on bass, Ronnie McCoury on mandolin, Aubrey Haynie on fiddle and Wes Hightower on harmony vocals. 
The new single as well as Eddie's full album are available on Airplay Direct for download by radio programmers, and for purchase on all of the popular online and streaming sites. You can follow Eddie on his website www.eddiesanders.com, or on Facebook to catch all the updates about his music or scheduled tour dates.