FOR IMMEDIATE RELEASE 
OCTOBER 27, 2020 
WILSON PICKINS PROMOTIONS 
864.359.7999 
GREENVILLE, SC - Three years to the day of his last album release for Wilson Banjo Co., multi-talented banjo man Steve Wilson drops a brand new, original song on Pinecastle Records.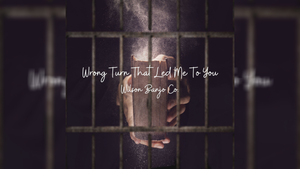 "Wrong Turn That Led Me To You" is a poignant tale of the wrong turns made in life, ultimately leading us to the right place. The tragic story in this song unfolds into one of remorse and regret that opens the doors to faith and forgiveness. An original song by Steve Wilson, and supported by an all star cast of vocalists and musicians, Wrong Turn  provides clarity and hope in a world where we can all feel a little lost at times. 
The respectable list of players on the new single include: Colton Rudd, lead vocal; Sarah Logan and Scott Burgess, harmony; Richard Bennett, guitar; Steve Wilson, banjo; Glen Crain, reso-guitar; Blake Young, mandolin; and Michael "Porkchop" Branch, bass. The album was recorded and produced by Steve at Bonfire Recording Studio, over this past summer. You can learn more about how Steve came to meet and make music with these fine folks on his song stories webpage. 
Wilson had this to say about the new music: 
"With the Covid-19 downtime this year, I was able to get back to writing more and focusing on the new project. This album has a special meaning, in that I have included brilliant musicians and vocalists  that I have worked with under all of the many hats I wear. Rather than a "band" album, we refer to it as a "Company" release! I have been so privileged to be in the BEST company for the last eight years and it has continued to this day! With my bluegrass family, I have recorded albums for and with them, built banjos for them and been blessed to share a stage with them. The new record called, SIX DEGREES OF SEPARATION, not only boasts amazing artists, but you will also enjoy a broad scope of music and something for everyone. Bluegrass is a small world and we are all or will all connect at some point in our careers! I believe it! I'm looking forward to sharing each song and it's story, as well as my 'six degrees' connection to the players!" 
The first single from the forthcoming project, "Wrong Turn That Led Me To You" is available worldwide today and for radio download from AirPlay Direct. 
"Steve Wilson has written a jewel with "Wrong Turn." It holds a very strong message of repentance, change and redemption...a song of HOPE...this will bless so many!" — Dale Ann Bradley 
"Colton Rudd's sandpaper vocals and easy delivery is the perfect treatment for Steve Wilson's song of renewal and redemption. This is one 'wrong turn' you'll be happy to take over and over." 
— Daryl Mosley 
"Steve Wilson is no stranger to the bluegrass world. Matter of fact he and his wife Melanie are involved in nearly all imaginable elements of our music, from building custom banjos, to engineering and mixing expertise, to session work, booking, public relations, and top shelf songwriting. Steve's latest composition, "Wrong Turn" takes us down a dusty road of ill fated love, recklessness, and redemption. With an incredibly fresh vocal performance from Colton Rudd, supported by a grade-A lineup of pickers, Wilson Banjo Co. knocks this one out of the park!" 
— Aaron Bibelhauser, Louisville, KY 
This new original song isn't made up of just the words and music, it comes from a deeper place, from life experiences that we all have shared in one way or another. "Wrong Turn That Led Me To You" is a standout, phenomenal song, full of solid, emotional vocals, and top shelf music. 
— Big Al Weekley 
---
Steve Wilson started off as most musicians likely did, growing up with a love of playing music with his family. He developed a respect for the sound, look and feel of the instruments themselves. Later in life, he was fortunate to find himself working in Nashville at Gibson, within the Custom Art Shop, designing and building custom art pieces. Many of these were special orders for a long, distinguished list of players. He learned from the best, and this experience would leave an imprint on his life that stayed with him to this day. 
While in Nashville, Steve also honed his craft in Bluegrass music, specifically, playing the Banjo, which became his favorite and master instrument. Studying with many of the well-respected teachers in the area, playing countless hours with local bands, and lending his talents in the recording studio from time to time, Bluegrass music was definitely where Steve planned to hang his hat for the long haul. 
After moving back to Upstate NY to raise his children closer to their extended family, Steve joined a couple of bands, enjoyed the festival seasons, his friends and did instrument repairs for folks here and there while casually building a custom guitar or banjo along the way. Now that the kids are grown and Steve and his wife, Melanie, have settled back down South in what they see as their "forever home" of South Carolina, he is looking forward to getting back to pickin' the banjo and building instruments on a more than casual level again. Steve has enjoyed playing bluegrass music cutting albums with several bands over the years and looks so forward to a bright future with this strong and professional band both in music and character. 
Steve's banjos, with custom designed inlay, hand-cut with a jeweler saw, began to get some notice, and before long, Wilson Custom Banjos was endorsed by super star pickers like Dale Perry (Fast Track), Gena Britt (Sister Sadie) and Tony Wray (Tyminski). The two models he focuses on are "The Warrior," and "The Guardian," no tone ring banjo. 
In 2014, Steve recorded an EP in his home studio, to promote the sound that his Wilson Custom Banjo gets, involving several musician friends from the Westminster, SC region where he lives. The EP, "The Guardian," named for the banjo model, began to garner some attention on radio, and that's when he decided to put the Wilson Banjo Co. band together for a second album. "Spirits In The Hills" was picked up in 2017 by Bonfire Records, the sister label for major bluegrass label Pinecastle Records, located in Greenville, SC. Also during that time, Steve Wilson was hired as the Lead Recording Engineer for the Bonfire Recording Studio, available to record for the public as well as label signed artists. Steve has since recorded hit records for Dale Ann Bradley, Flashback, Gena Britt, The King James Boys, Shawn Lane & Richard Bennett, the Jake Bartley Band, and many more. 
Over the past few years since Steve's band album release and promotional tour as the flagship band for Bonfire Records, he went on to play full time for Dale Ann Bradley and most recently, Deeper Shade of Blue. He also began writing lyrical songs, where he had only written several instrumentals in the past. With his love for recording and also wanting to continue putting out music to support his banjo promotion, Steve Wilson has gone on to create a sophomore project, now under the Pinecastle Records umbrella, called SIX DEGREES OF SEPARATION. The first single boasts an original tune, penned by Wilson, "Wrong Turn That Led Me To You." It's a poignant and emotional tale of a young person finding their way to God, through a series of wrong turns, that sometimes went right, and sometimes very wrong. We'll let you listen to and enjoy the story for yourself. 
The forthcoming project, titled, SIX DEGREES OF SEPARATION, came about when he began reflecting on all of his musical friends and heroes that he has been privileged to work with since relocating to South Carolina just eight years ago. He began connecting the dots of his many connections through music to all of these people, whether he has recorded a project for, or with them, toured with them, or built them a banjo. And with these folks all in mind, he was able to come together with the list of notable musicians and vocalists that participated in this recording. One thing he knew for sure when choosing the material, was that he wanted it to be diverse, showcase some of his original music, and also lift up and highlight the gifts of all of the players. You will find something for everyone on this record, with Traditional, Contemporary and Gospel bluegrass