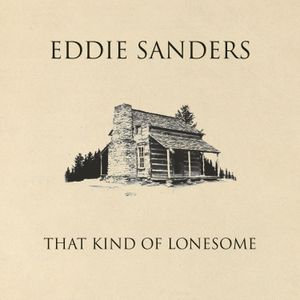 NASHVILLE, TN - Eddie Sanders is excited to be releasing his brand new bluegrass album, "That Kind Of Lonesome" with Engelhardt Music Group. 
The highly anticipated bluegrass album from Eddie Sanders follows the outstanding success of Eddie's all Gospel release (2020), which charted multiple singles, including the smash hit cover of "Three Wooden Crosses." The popular cover spent 10 weeks in the #1 position on the Bluegrass Today Gospel Song Chart and was their #1 most played Gospel Song of 2020. 
Once again, along with Eddie, "That Kind Of Lonesome" features a strong supporting cast of musicians and vocalists including, Ronnie McCoury, Scott Vestal, Dennis Crouch, Cody Kilby, Tim Crouch, Rob Ickes, Aubrey Haynie, Don McAfee, Glen Duncan, Garnet Imes Bowman, and Wes Hightower. 
"I'm really looking forward to sharing my new album "That Kind Of Lonesome." All the songs are original and were either written by myself or co-written with some great friends and songwriters. With this album we have several songs that feel like home to me, showing a glimpse of where I come from, how I was raised, and the music I grew up listening to. The songs, the memories, the music; we hope you find something here that you enjoy." - Eddie Sanders 
Eddie will be making the icy trek from Oklahoma to Nashville, TN to perform a very special Album Release premiere event at the Station Inn on Saturday, February 20th. With an all-star band backing him and the opportunity for limited in person seating as well as online ticketing available, there is no reason to miss what may be one of the hottest concerts to attend all year. Slated to join Eddie onstage Saturday night are, Tim Crouch, Mike Bub, Cody Kilby, Shad Cobb, Scott Vestal, Casey Campbell, and Rob Ickes. PLUS - Don McAfee, Larry Marrs and other special surprise guests. 
The new album is now available on iTunes, and other popular online distributors and streaming platforms. Follow Eddie Sanders on his website to keep up with his show dates and music news.