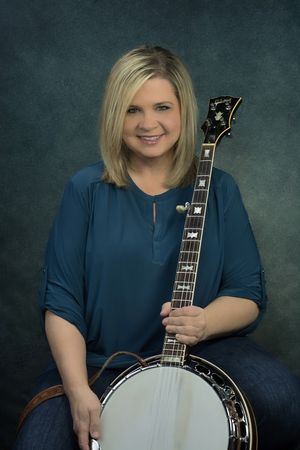 One of today's shining star's in the bluegrass genre has a whole lot more going for her than most folks may realize. Banjo diva, Gena Britt, formerly played for critically acclaimed bands Petticoat Junction, New Vintage, Lou Reid & Carolina and Grasstowne, as well as her own band. She is currently a member of the famed female super group Sister Sadie. Gena has also frequently freelanced for other big names in the industry including The Lonesome River Band, Lorraine Jordan & Carolina Road, Balsam Range, Alecia Nugent, Sally Jones & The Sidewinders, & The Skip Cherryholmes Quintet. She is highly resepected as a solid, driving banjo player, but also as one of the hardest working female musicians in the business as a single mom with two young daughters at home and a full time job to boot. Gena Britt is known to be a friend to all and favorite musician to the fans. 
Recently Gena made the decision along with longtime band leader Alan Bibey, to leave Grasstowne, where she has been pulling double duty with the Sister Sadie Band for several years. This was a decision that neither took lightly, but that both felt was for the best of both bands. Grasstowne and Sister Sadie are growing in popularity leading to expanding tour schedules and trying to continue on with both gigs would be increasingly difficult for Gena. 
"I thoroughly enjoyed my time as a member of Grasstowne and I will miss everyone.  Alan Bibey and I go back a long way and we will always remain great friends.  I wish him and the new configuration of Grasstowne nothing but the best." 
For now, Britt will be focusing her musical energies on the Sister Sadie band and is getting very excited about the forthcoming release of their new album Sister Sadie II, on Pinecastle Records. The first single will be released mid-June and the album has been given an official release date of August 24 
While all this has been going on, Gena has been busy laying ground work on some new ventures of her own and is ready to let a couple of the cats out of the bag! The first exciting new development is that Pinecastle Records has invited her into the studio at Bonfire Recording Company later this year to start recording a new solo project. Material has been collected and she has lined up an arsenal of knock down drag out musicians! 
"The support of my career from Pinecastle means so much. I've got some pretty awesome pickers and singers assembled to start working on an upcoming solo album early this fall." 
Wilson Pickins will be on hand with updates and sharing behind the scenes footage from the studio, so stay tuned for that this Fall. 
Breaking news story number two is that Gena has recently entered into an endorsement deal with Wilson Custom Banjos. The partnership was an idea that spawned from a conversation during the Bluegrass Christmas in the Smokies Festival this past year in Pigeon Forge, TN. The instrument company's founder and master luthier Steve Wilson says he couldn't be more proud than to have Wilson Custom Banjos represented by Gena Britt. 
"I have been a fan of Gena's for many years," says Wilson, "so to have her playing a 'Wilson' on the road is a real honor for me. We have worked on a design that is very personal to her and it is shaping up to be a true work of art. Can't wait to hear this wonderful artist play her new Wilson Custom banjo!" 
"I am ecstatic about my new partnership with Steve Wilson & Wilson Custom Banjos," said Britt, "Steve and I (mostly Steve) have worked hard at designing a banjo that ensures my personality shines through from the wood to the design of the inlay pattern and some other neat features. I'm so excited for everyone to see and hear this banjo! It's an exciting time for me." 
There is even more exciting news coming soon so Y'all will just have to keep checking back for more "BRITT BUZZ!" For now, catch Britt on the road this Summer with those sassy Sisters, be sure to pick up the new Pinecastle release "Sister Sadie II," and in her downtime Miss Britt will be enjoying her own "Lil Sadies" on the homefront.