FOR IMMEDIATE RELEASE
APRIL 2, 2021
WILSON PICKINS PROMOTIONS
864.359.7999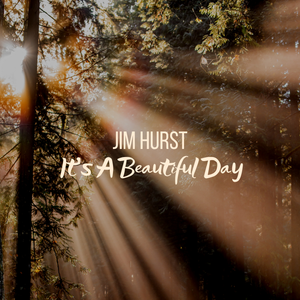 NASHVILLE, TN - From the brilliant artistic mind of distinguished singer songwriter and instrumental genius, Jim Hurst, comes a brand new, original single, "It's A Beautiful Day." The new single is available today, worldwide, following an earlier release to radio in March. Perhaps delivering this inspiring and uplifting tune during a time when it is needed most in our world, Hurst has made the long five year wait for fresh tracks from him, well worth it. One listen to this new song from IBMA Award Winning Guitar Player of the Year, will brighten any mood, raise the sun in any storm and turn your frown upside down.
"It's A Beautiful Day" was a "pandemic recording" having utilized technology to record and share tracks during shelter in place mandates, from Tennessee, California and Ontario, Canada. It was mixed and mastered by Scott Vestal at his Digital Underground studio in Nashville, TN. In addition to Jim's signature acoustic guitar picking style adding the joyful tones and positive emotions throughout, he is supported by Michael Gaisbacher on Upright Bass, Emory Lester on Mandolin, Fred Carpenter on Fiddle, and Mike Witcher on Resonator guitar. The trio of exquisite harmonies you hear are added by none other than Claire Lynch on Tenor, Dale Ann Bradley on High Baritone and Shelton Feazell on Bass harmony.
"It's A Beautiful Day" is one of those songs that will be sung for decades to come… it will be an encouragement for generations ahead... while in our present time is a warm, bright light to lead all of us out of a dark time… but Jim's spirit is that way." - Dale Ann Bradley
"It's A Beautiful Day is a song to keep in your heart, no matter what the circumstance." - Claire Lynch
Jim Hurst's new track will infuse listeners with hope and joy as they delight in the enthusiastic display provided by impressive instrumentation and purpose-filled vocals.
Download or stream "It's A Beautiful Day" here, and visit Jim on his website or social media to stay connected.
---