FOR IMMEDIATE RELEASE 
May 7, 2021 
Wilson Pickins Promotions 
864.359.7999 
Louisville based, folk singer/song-writer, John Gage, is releasing a brand new original tune, "Holy Road" today, a collaboration with long time friend, Aaron Bibelhauser. The uptempo bluegrass song that transports the listener into an uplifting, traditional, old-timey euphoria. The delightful lyrics, harmonies, and musical arrangement will leave a smile on your face and song in your heart.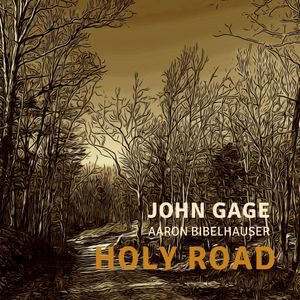 "Kentucky songwriter, folksinger, and de facto spiritual counselor to his musical brothers and sisters, John Gage has spent over five decades serving our community here in Louisville, KY.  From hosting longtime radio show, Kentucky Homefront, to presiding over countless marriages, and memorials for those we love, John's service reaches far beyond the age old craft of combining lyric and melody to share his truth. Co-creating this record with John is truly among the most meaningful experiences of my lifetime. Much more than merely a collection of songs, this project has become a scrapbook detailing our journey, accentuating the trials and treasures encountered by humanity within the circles of our lives. The path we travel, as caretakers of our Mother Earth, and of one another, is a sacred one. It's a "Holy Road", and it's one we travel together." 
-Aaron Bibelhauser 
Personnel on the recording are: 
John Gage - vocal 
Aaron Bibelhauser - guitar, backing vocal 
Jeff Guernsey - fiddle 
Michael Cleveland - mandolin 
Steve Cooley - banjo 
Chris Douglas - bass 
Adam Bibelhauser - backing vocal 
(c)2021 produced by Aaron Bibelhauser at the Quilted Window, Louisville Kentucky 
Gage has been entertaining audiences for many years with his poetic lyrical creations and flat-picking melodies. Music and arts stages and communities throughout his home state of Kentucky and the surrounding regions always look forward to hosting John Gage for a music show, motivational speech, or even a workshop. As a well respected ambassador for arts and music education, he has also become a sought after guest for teachers and school music programs. You may also have heard John on the radio as the host of "Kentucky Homefront," a radio show preserving Kentucky's cultural heritage through storytelling and traditional music. 
The first single "Holy Road," from the forthcoming album Circles Of Our Lives, is available today, everywhere music can be downloaded or streamed. Radio can download the track on Airplay Direct.