FOR IMMEDIATE RELEASE 
OCTOBER 20, 2020 
ENGELHARDT MUSIC GROUP 
NASHVILLE, TN -- Engelhardt Music Group is pleased to announce the signing of bluegrass mandolinist and vocal superstar, Tina Adair, to their label. This week, EMG is releasing to radio, the first single, "Eighteen Wheels and a Dozen Roses," from Tina's forthcoming debut solo album for EMG.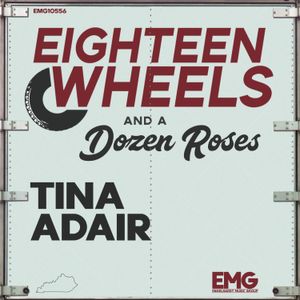 People may initially recognize the single from the country version, released by Kathy Mattea, back in 1987. Tina always had a fondness for the "story song" and had been wanting to record it with a bluegrass arrangement for some time. 
"I'm thrilled to be sharing the wonderful news of signing with EMG and releasing my first single from the new record. It's been a minute since I've released a solo project and the timing to do this has worked out well. The first single, Eighteen Wheels and a Dozen Roses, is a song that I've loved to sing ever since I was a little girl. This song to me is about the forever love story, it's about hope and having something bright to look forward to! I love the band's interpretation of this coupled with the unparalleled harmonies from Ronnie and Garnett Bowman! This was a lot of fun to record. Thanks so much for giving it a listen." ~Tina Adair 
The single, which was written by Paul Nelson & Gene Nelson, includes an all star cast of Nashville session musicians and singers backing an unsurpassed lead vocal from Adair: Cody Kilby & Pat McGrath (acoustic guitars), Dennis Crouch (bass), Casey Campbell (mandolin), Scott Vestal (banjo), Rob Ickes (dobro), Tim Crouch (fiddle), and Ronnie Bowman & Garnet Imes Bowman providing harmonies. 
Tina Adair is the first female lead to record and release for Engelhardt Music Group. The label has become known for their elite representation of world-class singers and musicians from their Nashville, TN location. With Adair, they made no exception. No one can deny that Tina is undoubtedly one of the most powerful, soul bearing and masterful female vocalists in the world. Bluegrass is surely proud and blessed to have been given her gift for many years. The record was engineered and produced by Adam Engelhardt and Glen Duncan, at the Sony Tree studio, and this first single comes fresh off a whirlwind timeline of success for Tina with the all female band, Sister Sadie. Their sophomore project, SISTER SADIE II, released in late 2018, debuted at #2 on the Bluegrass Billboard chart and went on to be nominated for a GRAMMY for Best Bluegrass Album in 2019. Following their recent GRAMMY nomination, the band has earned three prestigious IBMA Awards in the last two years, including the most recent, Vocal Group Of The Year and Entertainer Of The Year. It is evident that this is just the beginning for multi-talented, roots music artist, Tina Adair. 
Producer, Glen Duncan, says creating music with Tina has been more than a pleasure and one of his favorite recording experiences so far, 
"I think that "Eighteen Wheels And A Dozen Roses" shows the world why Tina Adair has long been considered one of the greatest singers in the Acoustic Music World. Tina has that rare ability to really tell the story in the song when she sings. "Eighteen Wheels" is a great story song, and we love how Tina's singing brought the story in the song to life." ~Glen Duncan 
The full Tina Adair solo project is expected for release in 2021, and we look forward to following the exciting, ongoing journey of one of the most notable voices in the bluegrass industry.