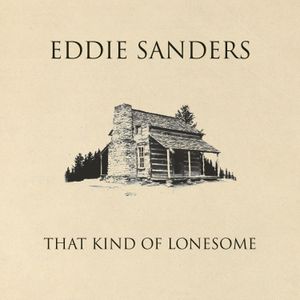 NASHVILLE, TN - Engelhardt Music Group is dropping a new single this week for their resident smooth and soulful male vocalist from Oklahoma, Eddie Sanders. "Heartbreak Highway" marks the fourth single from Sander's current bluegrass album That Kind Of Lonesome, which has received high acclaim from critics and garnered escalated radio airplay, thus far. 
"This album is Eddie Sanders' best yet, and it goes to show the more you ignore him, the more noble and perfect his work becomes. Take my advice, without any hesitation, seek out this superb collection of outstanding songs and performances." -Alan Cackett 
Another original tune, Sanders teamed up with Adam Engelhardt and Glen Duncan, to write "Heartbreak Highway." The engaging toe tapper successfully incorporates many of the popular bluegrass subject matters into the lyric with a delightful, fluid melody that stays with you long after the song has finished. With his signature first class studio band backing him, Eddie's rich, smoky vocal tone melts perfectly into this homespun storyline. 
Lead Vocals: Eddie Sanders 
Harmony Vocals: Wes Hightower 
Banjo: Scott Vestal 
Acoustic Guitar: Cody Kilby 
Bass: Dennis Crouch 
Mandolin: Ronnie McCoury 
Fiddle: Aubrey Haynie 
"My favorite track (and one of the most well-written on the album), however, is Heartbreak Highway, which traces the journey of a rambling guitar picker. There are so many good lines and vivid details in this song, as the narrator slowly gets around to the reason he set off rambling in the first place: "Six strings full of heartache took me around the world, that suitcase full of memories of a little mountain girl." -Bluegrass Today 
"Perhaps the biggest highlight might be the writing which plays authentic throughout, maybe no more so than on "Heartbreak Highway"—maybe the best all-around selection on the album—which references "six strings full of heartaches" and "a left down Lonesome Road." -Bluegrass Unlimited 
The new single is available to radio programmers on Airplay Direct or from Engelhardt Music Group, and for purchase or stream from all the popular online distributors. Fans will be able to catch Eddie live at his First Annual Xtreme Bluegrass Music Festival in Eufaula, OK, later this month, on September 24 and 25. Be sure to follow Eddie Sanders on social media, as well as his website to keep up with all he has going on. 
LABEL CONTACT: 
Adam Engelhardt 
615.429.0817 
info@engelhardtmusicgroup.com 
PUBLICITY AND BOOKING: 
Melanie Wilson 
Wilson Pickins Promotions 
864.359.7999 
wilsonpickins@gmail.com 
Eddie Sanders is a world-class Singer/ Songwriter/Guitarist from McAlester, Oklahoma. Eddie was born into southwest bluegrass royalty, and his father is legendary bluegrass festival and concert promoter, Freddie Sanders.  The Sanders Family Bluegrass Festival in McAlester was one of the biggest and best bluegrass festivals west of the Mississippi, and one of the favorite venues for bluegrass acts Bill Monroe, The Osborne Brothers, Lewis Family, Jim & Jesse, Ralph Stanley and nearly every major bluegrass act of the last 40 years. The McAlester festivals were shaped and guided by his major bluegrass influences:  Mac Wiseman, Larry Sparks and The Osborne Brothers. He also developed a high level of professionalism that he is known for from the best acts in the business, while also learning the true power of a song and love for original material.  Eddie was also strongly influenced by Merle Haggard and Gene Watson which motivated him to start writing his own songs. 
For many years Eddie Sanders was the guitarist and lead vocalist with the widely-respected band, "Signal Mountain". Eddie's fellow band mates included: Shawn Camp (IBMA Male Vocalist of the Year, Earls of Leicester); Dennis Crouch (Elton John, Elvis Costello); Billy Joe Foster (Bill Monroe, Ricky Skaggs); Tim Crouch (The Whites, Mike Snider); and southwest bluegrass luminaries Donny Catron; Don McAfee; and The Bonham Brothers, Virgil and Glen! One of the finest bluegrass bands of that era to be sure! 
Eddie's songwriting skills increasingly brought him to Nashville for songwriting sessions with Shawn Camp, Ronnie Bowman, Dennis & Tim Crouch, Glen Duncan and Adam Engelhardt.  Eddie wrote The Del McCoury Band's hit single, "You Could Be Me". Eddie has since had songs recorded by Terry Baucom, Amanda Cook, Kix Brooks & Wayne Toups, Joe Hott, Chris Roberts, & Glen Duncan. 
Eddie's work, both as a singer and a songwriter, combines the best elements of the old and the new. With a family tradition steeped in the history of bluegrass music, Eddie Sanders' new recorded songs are a powerful statement of what the best bluegrass music has always been, and what the best bluegrass music will be in years to come.