FOR IMMEDIATE RELEASE 
SEPTEMBER 7, 2021 
WILSON PICKINS PROMOTIONS 
864.359.7999 
GARNER, NC - This will be the 10th Anniversary of Bluegrass Christmas in the Smokies for hard working genre and event promoter, Lorraine Jordan. In response to the most recent spike in new and breakthrough cases of the Covid-19 virus around the country, as well as new safety regulations increasing in many states, Lorraine Jordan has stepped up her game to protect the health and well-being of her Annual Festival audience, staff and entertainers.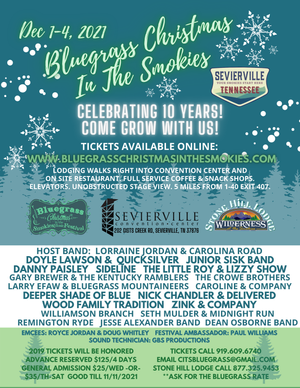 In order to provide more room for the expected crowd to social distance, Jordan has moved her Bluegrass Christmas in the Smokies Festival to the larger and more modern, Sevierville Convention Center, only 7 miles from the original location in Pigeon Forge. Located just minutes down the road, the new venue, allows the patrons to still take in the same sites and shopping that they have become accustomed to, and also enjoy a newer, larger, more contemporary space for their comfort and well being. 
In addition to the health and safety features that the Sevierville Convention Center capacity satisfies, the convenience factors are abundant. Festival goers will be able to simply walk directly from their Stone Hill Lodge rooms, into the concert hall, rather than go outside in any inclement weather, as well as enjoy their meals at an onsite restaurant. One could argue that they never have to go outside during the Festival, if they didn't want to. 
This years lineup goes above and beyond, as usual, for the Christmas Festival, featuring Doyle Lawson & Quicksilver, Junior Sisk Band, Danny Paisley, Sideline, Little Roy & Lizzy, Gary Brewer & The Kentucky Ramblers, The Crowe Brothers, Larry Efaw & Bluegrass Mountaineers, Remington Ryde, and many more. Lorraine Jordan and Carolina Road will be there performing and holding down the "host band" duties, and special guest Paul Williams will also be in attendance on multiple days. 
In an effort to make the transition as smooth as possible, Jordan has not hiked up the prices of her Festival tickets as one would expect when moving to a newer, larger facility, rather left them the same, as she felt was only fair to her loyal clientele. She is also honoring tickets from last years cancelled Festival. 
"I am so happy to tell everyone that Christmas In The Smokies is going to happen in 2021! I have moved the event to a larger venue so patrons can spread out and be safe. The Sevierville, Tenn Convention Center has plenty of room to social distance. They also provide a full time staff dedicated to keeping all areas cleaned and sanitized throughout each day. I'm very excited about our 10th anniversary year of the festival and look forward to it being the best ever with the biggest line-up and best venue in the area. If you have always wanted to attend Bluegrass Christmas In The Smokies, this is the year to start. We are all about the Bluegrass and now located in a new larger, high class facility. I hope you will be my guest." 
-Lorraine Jordan 
Full details on how to reserve your rooms at Stone Hill Lodge, or other area lodging providers, as well as purchase passes for this years event at the Sevierville Convention Center, can be found online at BluegrassChristmasInTheSmokies.com. 
Lorraine Jordan invites all of you to 
"COME GROW WITH US, 
AS WE CELEBRATE TEN YEARS OF 
BLUEGRASS CHRISTMAS IN THE SMOKIES!"